I've talked on here about not purchasing many cards over the past year (at least in comparison to previous years) because of moving. Now that things have settled down I finally requested shipment for my COMC inventory over the past two years.
Of course as soon as I submitted my order for shipping, the next day a /10 clear acetate League Leaders popped up.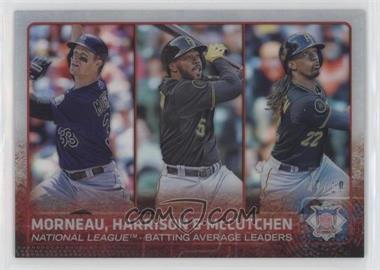 2015 Topps - [Base] - Clear #127 - League Leaders - Justin Morneau, Josh Harrison, Andrew McCutchen /10
I wish I could have gotten this in hand with my recent order, but considering how far back my COMC order is in the waiting line, I'm hesitant to tempt fate and email them to ask if they can add this to my order.